6 Summer Hats You'll Wear For All Your Summer Activities Even If You're Not A Hat Person
*This content is sponsored by San Diego Hat Company. All thoughts and opinions are my own.
Thank you for supporting the brands that support this blog.
 Summer is officially here and the arrival of a new season has never felt so symbolic and welcoming. Now that the world is cautiously opening again, all I can think about or talk about is summer vacations and warm-weather activities (who else can relate?) I think we all are excited to get outside and travel the world again. So, I have been busy planning for adventurous trips and searching for outdoor fits and sun-hats to enjoy the season's best pastime.
And, of course, if you know me, you'll know one of the first stops for hats I made was San Diego Hat Company. For me, San Diego Hat Company has been a major part of my everyday hat collection. What I love about this SoCal hat label is you can find hats that check all the boxes; a hat for sunbathing, a hat for hiking, a hat for a globe-troller (packable hat), a hat for everyone in the family (women, men and children) and a hat that's budget friendly...whatever it is and whatever you do, finding an ideal hat has never been easier.
So, whether you're headed to the beach, the mountains, the desert or the city, scroll down and   keep reading to shop my picks of the most loved summer hats that will accompany any getaway geotags.
---
City Stroller: Women's Ultra Braid Fedora with Tri-Fold Novelty Print Band.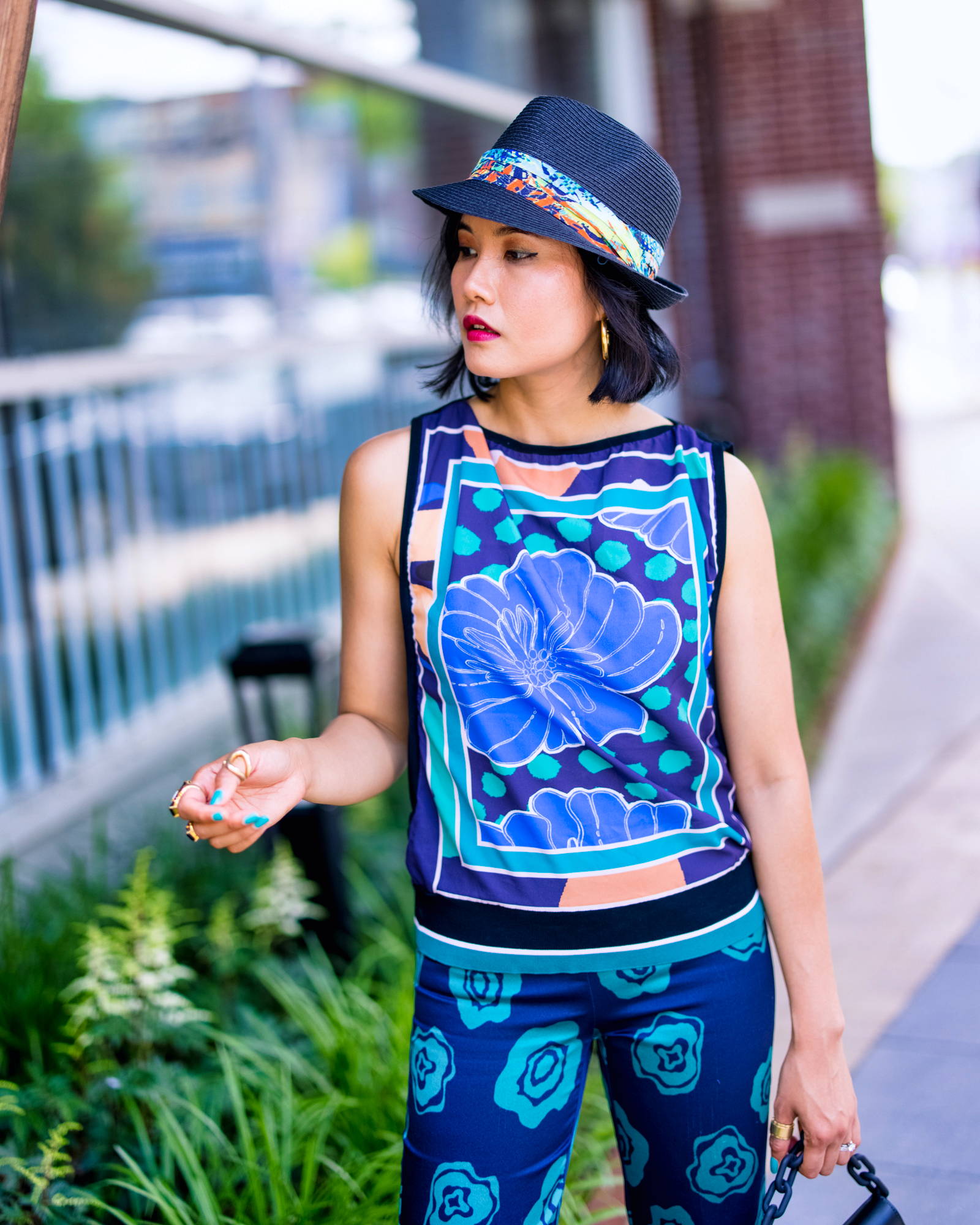 Maybe the easiest way to enjoy summer is just long city walks and some casual coffee dates - and, yes, a more comfortable and stylish ensemble. When in doubt, you can always reach out to the comforting familiarity of a fedora. I love mid-size sun-hats and this Ultra Braid Fedora hits the jackpot. What makes it special and fashionable is that it's a classy and modern black straw hat with the playfulness of a tri-fold novelty hat band in vivid colors and bold print; which adds just the right dash of fun.
It goes with absolutely everything from sleek and effortless outfits like; jeans, graphic tees, biker shorts, sundresses and light jackets as well as semi-special occasion looks such as suits, blazers and cocktail dresses. In this look, I decided to try a bold floral top with a pair of vintage inspired floral pants. Take note: pick color coordinates when you would like to get pulled-together-look in no time. By matching the family color of the hat (band) and the outfit together, you'll easily elevate your outfit to a purposeful and stand out.
---
Le Beach C'est Chic: Women's Ribbon Brim w/Raffia Braid Crown
Growing up in Thailand where I could access infamous beaches like Maya Bay on Phi Phi Island (if you watched "The Beach" with the film star Leonardo DiCaprio, you know what I'm talking about), I never really understood the obsession of western tourists until I no longer lived there. Now I live not far from the Jersey Shore, it's still a beach, although the view can't be compared with the one in my hometown plus it's packed with a lot more people. I still find myself going there with my husband and bringing my A game for my ensembles. A good typical beach day would be a day walking at the boardwalk or by the beach and ending a sultry summer day with sunset cocktails.
To be prepped with day-to-night activities by the beach, I want my outfit to have personality. If you've been following me from the beginning, you know I love adding a bit of drama to my outfit. This frayed raffia edge hat with multicolor tassels is perfect to make any entrance. What's not to love? Two tone hat with bright colors of tassels, easy to throw on any outfit and call it beach-ready attire - absolutely ideal summer hat to add to your hat collection. I can see myself pairing this hat with many cute summer dresses. Playing up the prettiness of a tropical printed dress with the hat will keep the celebration of summer bright and cheery.
---
Backyard Party: Women's Classic Paper-braided Large Brim Hat
Backyard barbecue? How about a round of beer pong or any outdoor game? In addition to must-do summer activities that require you to get out of the house, the other choice is a backyard grill session (attend or host). I love low-key time spending on the weekends and inviting family and friends over with a little splash by the pool. Now, when it comes to figuring out what to wear to a summer BBQ, the options, are quite frankly, endless. Personally, I'm looking for more low-key celebration attire when it comes to family events, so I love keeping things casual and easy fit.
For me, a wide brim hat is a BBQ must. This Classic Paper braided Large Brim Hat is functional and stylish for a grill season or any other occasion. One thing I love about this hat is you don't have to worry about the wide brim cover your entire face; the edge of the brim is folded over to frame your face nicely. Plus, the hat has UPF 50 built into it while is not extravagantly big, so makes it great for everyday wear. I love that the hat comes with an adjustable string so it can be sized for a comfort fit. Also, there is something about the contrasting of the stripe that immediately makes me think of the most famous American Holiday – the July 4th. I love how the combination of blue, white and stripe feels festive in the way that more classic. Pairing the look with a blue, white striped shirt with a cute lace barrette and denim shorts and double stripe with the hat and it really let the stripes do the talking.
---
A

lfredo Coffee Date: Women's Stripe Clip On Visor
It's so wonderful that we can now more freely catch up with friends or connect with someone new, and get your favorite caffeine fix (and, perhaps your favorite pastries too?) while we rejoice IRL. When I think of a coffee date, I think of a casual meetup with a polished touch and modest look – your outfit shouldn't take away from our charming personality. Despite the weather outside, one of the hat trends that I'll be excited to grab and go this season is visor. My personal favorite is Women's Stripe Clip On Visor. Beautifully woven from braided-paper straw that reads sporty and fashion-forward. The highlight of this sunhat is giving you full sun protection without interfering with your hairstyle like other hats might do (I am referring to hat hair!) This contrasting hat feels summertime appropriate and makes it ready to top off any effortlessly chic summer look.
For this look, I'm opting for versatile neutral look. Simple, minimal, and good.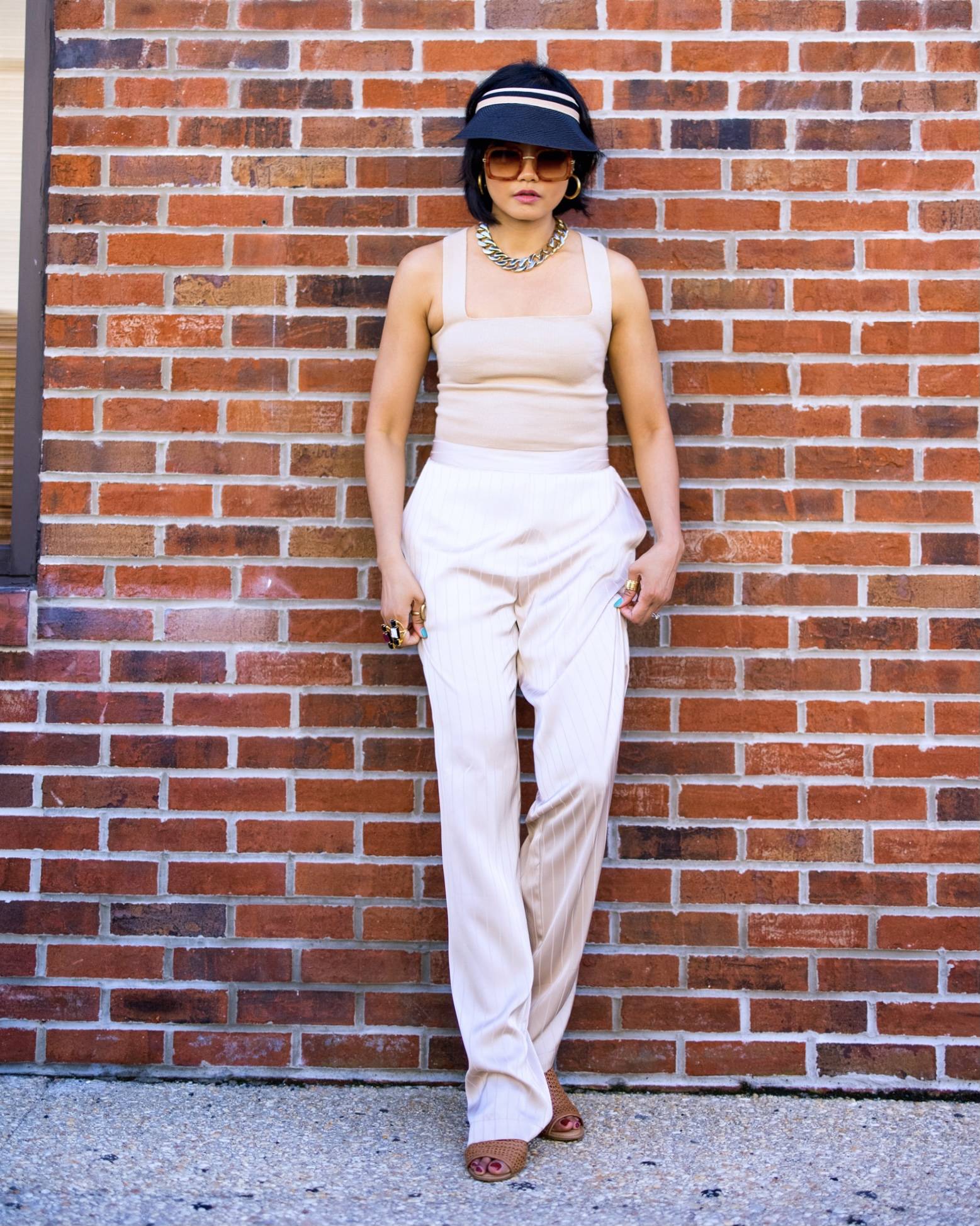 ---
The Farmer's Market Enthusiast: Women's Adjustable Tie Floppy
Browsing and shopping the many, many local items at a farmer's market brings me so much joy. All the fresh produce, pretty flowers, and artisan cheese I bring home every Sunday mornings are not only the reason. Also, it's an excuse to dress in something perfect for the season. Your average farmer's market doesn't have a dress code. Otherwise, I'm a big fan of the bright color, fabric-like hat that I have started to add more frequently to my summer wardrobe, as it keeps me cool under the shade while it looks the part with cute summer dresses to casual linen wear. Making a statement has never been easier and I love this Women's Adjustable Tie Floppy for so many reasons. First, it comes in seven colors, so all vivid hues will be an instant summer hit and a mood-lifting (I guarantee you would love to snag all seven colors!). The hat is made from fabric instead of straw, so it makes it easy to clean and perfect to travel with (you can roll it up in your suitcase…and the shape returns to original with some mild adjusting. With the fabric-like style, the hat is designed to fit well-proportioned on your head. If you have a size noggin's problem, this hat is a headwear remedy. Plus, there is an adjustable tie, so you adjust the hat to fit your head at your comfort.
This floppy hat can do no wrong in my book. It can go with pretty much with anything in my wardrobe for summer: denim, linen wrap tops, dresses, wide-leg trousers, miniskirts and swimsuits…you name it. As someone who craves cute dresses in the summer months, so I went for a floral dress in this look. Now, if only the sun can surface…
---
Trail Blazing: Women's Wide Brim Palm Under Brim Print
As much as I liked binging Stanley Tucci: Searching for Italy on the weekends, adventure is calling, and I must go. With the need for more physical activity and the newfound acceptance of all day comfort, this Women's Wide Brim Sunhat with Under Brim Print will be your best friend whether you're hitting a trail in neighborhood or finally taking that trip to Utah. Sure, a simple baseball cap would get the job done, but this oversized brim sunhat is a game changer. It's built in UPF 50+ with an adjustable drawstring toggle that will securely strap the hat to your head. With a packable style hat, you can toss in your tote bag or backpack without a second thought. it's featured lightweight, breathable, washable, quick drying (water/stain resistant), Recently, I took the hat for a test by walking behind a waterfall and I couldn't be happier with the results - the hat was not soaking wet and shortly dried…sun protection at its best. This hat is great for hiking, camping, fishing, safari, boating hunting, doing yard work etc.
While you may not be a serious outdoor adventurer, you could use it as a rainy hat or wear it by the pool or beach. Take your pick. What I love: this outdoor sunhat packs a punch of red color that delivers feel-good-factors in more ways than one. You can easily pull it off with sweats or gym look to just a simple t-shirt with shorts.
Comment below what hat you'll be trying this summer. Looking for more hat options?
San Diego Hat Company has so many cute and practical hats for everyone.
Shop everything SDHC HERE.
---