Top 7 Chic Hats That I Love From San Diego Hat Company's Fall '20 Collection And How To Wear Them Now
*This content is sponsored by San Diego Hat Company. All thoughts and opinions are my own.
Thank you for supporting the brands that support this blog.
Its officially Fall which means it's time to move the straw hats out, and bring forward the wool felt hats, the baker boy caps and all the warm fuzzy hats in my closet. I love this time of year because it feels like a fresh start, especially when it comes to our wardrobe. Coming from a warm weather country (Thailand) we basically have one season – HOT, so for me fall fashion with hats, boots and jackets is an exciting time. I love to stock up on the season's essentials and get ready for cooler days ahead and San Diego Hat Company's Fall '20 hat collection has me feeling a certain type of way.
San Diego Hat Company is a favorite of mine as they manage to combine really high quality hats with affordable prices. I know I have been going on and on about this brand but I'm VERY excited with their new arrivals, so I thought it would be helpful to introduce my top 7 pieces for fall with San Diego Hat Company. This way you can get a head start on your shopping. Keep scrolling for 7 fall hats and how to wear them — from floppy fedora to wool felt wide-brimmed style and cozy bucket hat. These fall headpieces are looking quite colorful and practical.
Women's Floppy Fedora With Braided Trim (WFH8047)
The noteworthy colors I'm loving for fall are the tones of orange including earthy burnt orange. Let's be honest, the tone of rust feels easy, classic, but also festive and fun. It's in trend practically every fall and is flattering on just about everyone. The great thing about this floppy hat is that the hat is packable – meaning there is no damage by any compressing and I can crush it in my tote bag or carry-on without feeling guilty about it. This hat style is available in 3 colors: Bone, Brown and Rust (This style is selling like hotcakes and the Brown one are already sold out). Think of all the fun outfits and fall activities you could wear with this. Yes, you need this rust-orange floppy hat!Unfortunately, this hat has just sold out.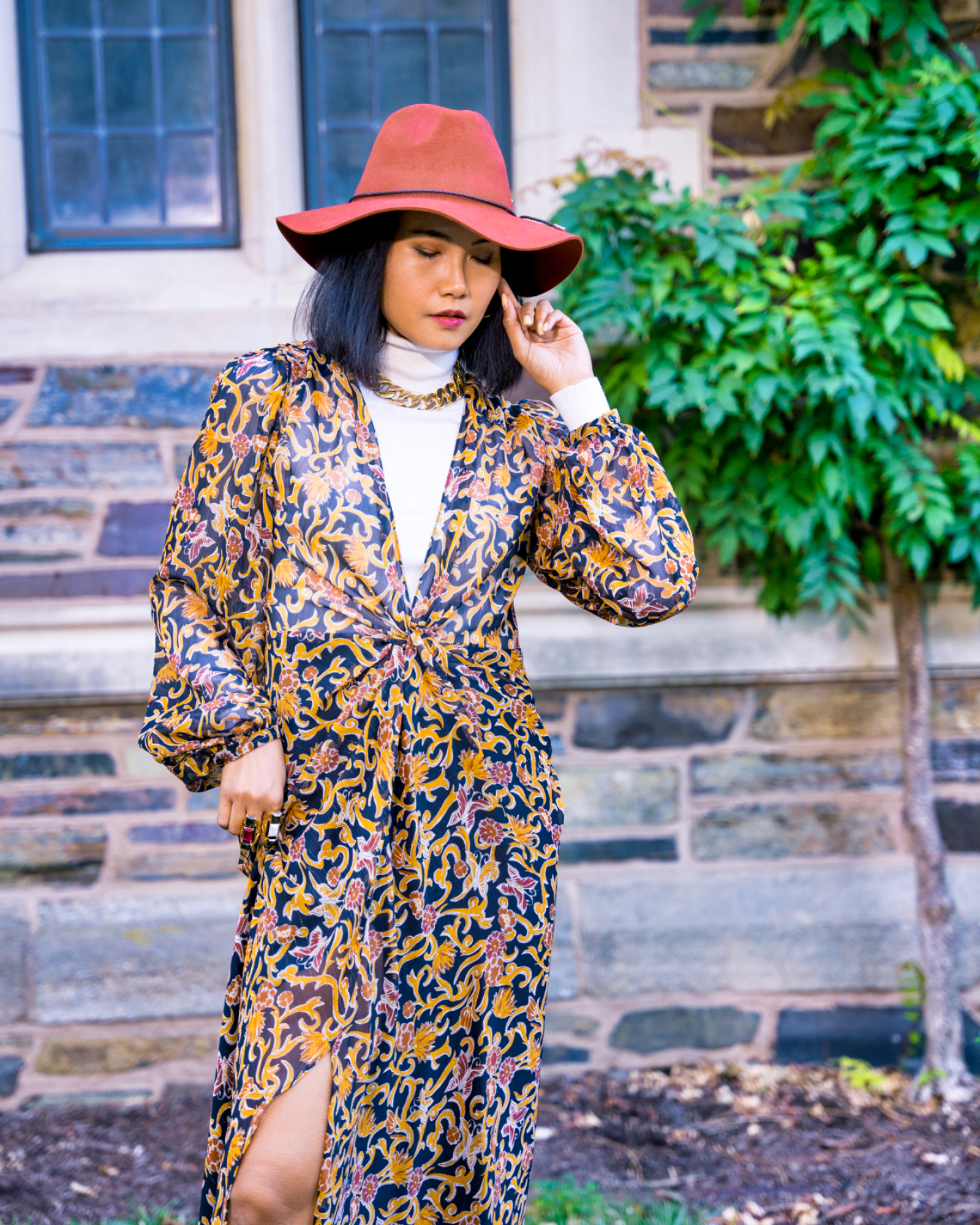 Now onto the look, it's simple: fall is the season of layering. Don't pack your dresses yet, consider pairing a dress with a (turtleneck) sweater to create an especially fashion silhouette. Quick styling tips: Opt to the eye-catching dress that the colors incorporate with the hat to give a next-level look. You can also keep your outfit understated and let the hat do the talking. Optional: add high knee boots/cowboy boots and jewelry to bring the look together. 
Women's Fedora With Bow (WFH8039)
There are few things that can truly be described as perfect-throwing to any outfit, and this classic fedora happens to be one such piece. On the casual-to-dressy spectrum, felt fedora tends to fall at the most laid back hat that makes an outfit effortlessly chic. Now, as far as color options, this hat style is coming in not just one but seven colors: pink, black, blue, camel, ivory, pine, and red (I seriously want to stock every color). I chose the red one. It might sound crazy to say that this hat is actually my first red wool felt hat (say what?). I guess I couldn't quite find the right shade I was looking for. So, I'm definitely having a red hat moment and I especially can't seem to get enough of this soft, cozy touch and statement-making piece.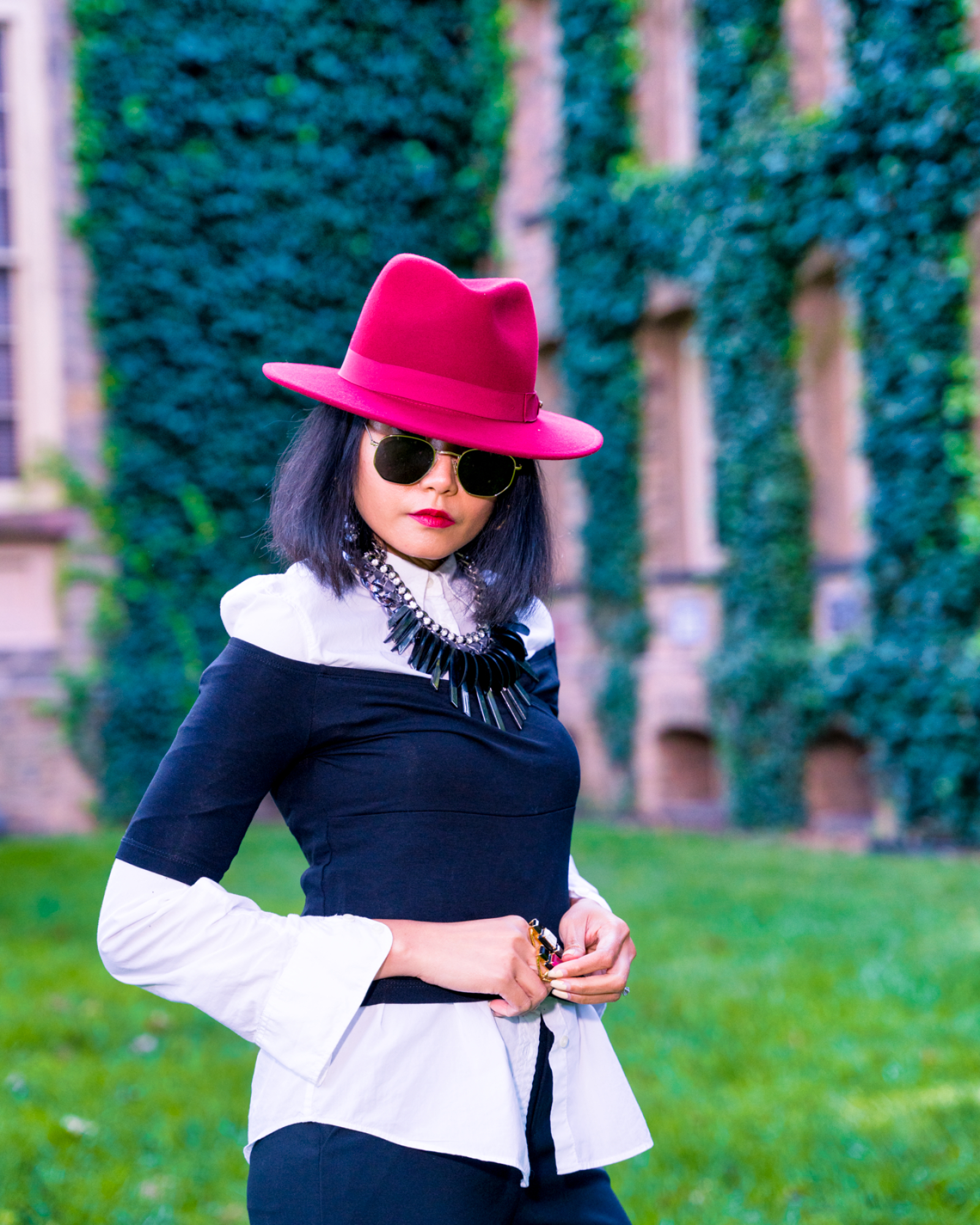 Give a simple black and white outfit the French-girl spin with the popping accessories like a pair of red boots and a fedora – this look always works for me. I paired a buttoned-up white shirt with a black crop top on top and really anything tailored on bottom. Optional: put on a statement necklace never hurts.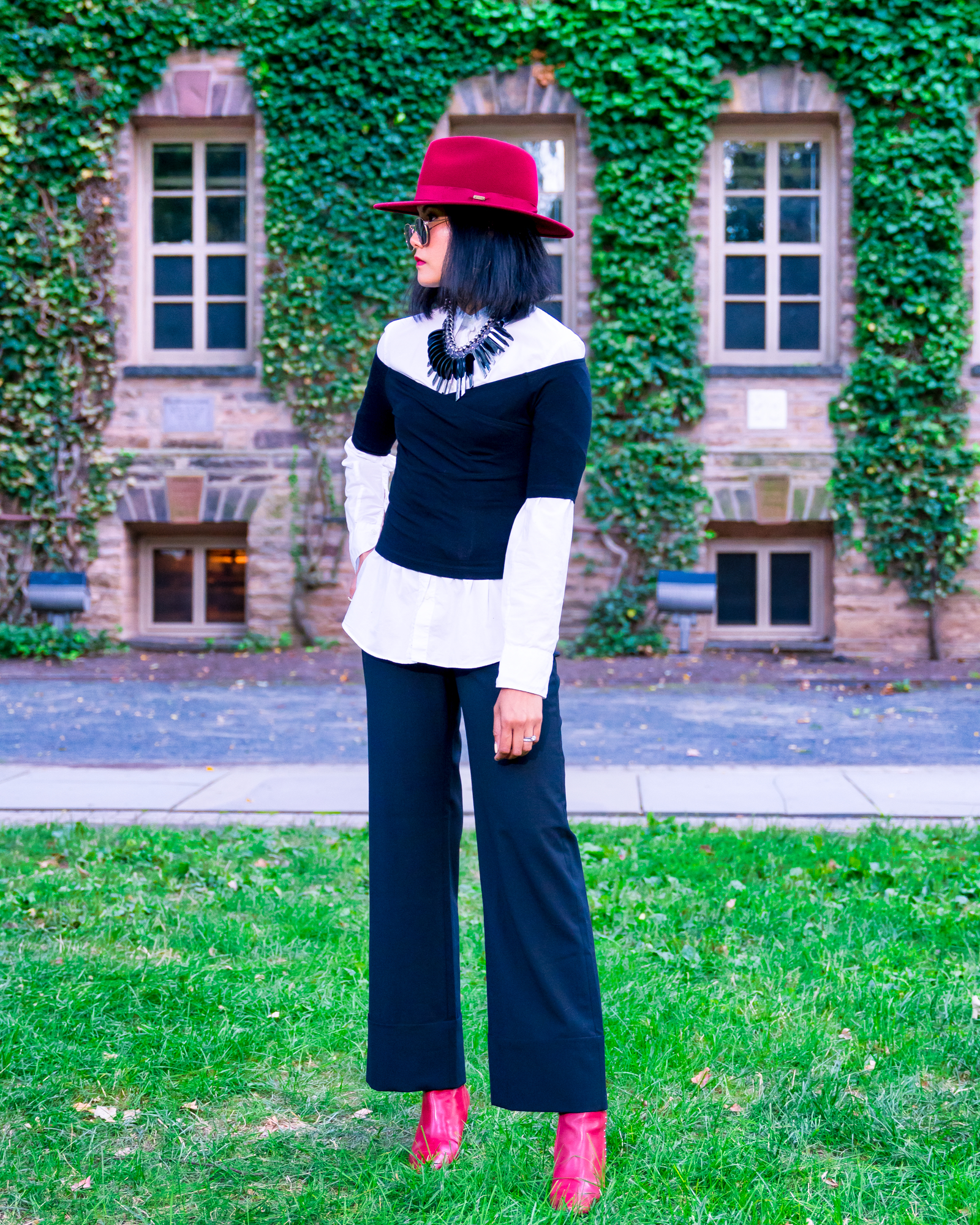 Women's Wool Felt Fedora With Off Center Pinch (WFH8213)
I was immediately drawn to the silhouette and chic lavender play of this wool felt fedora. A timeless piece with a new twist. Intentional design details, like the off-center pinch and well-placed bow hat band give this hat a charming flair. Even though this hat has launched for fall/winter but it will stand the test of time. Guaranteed.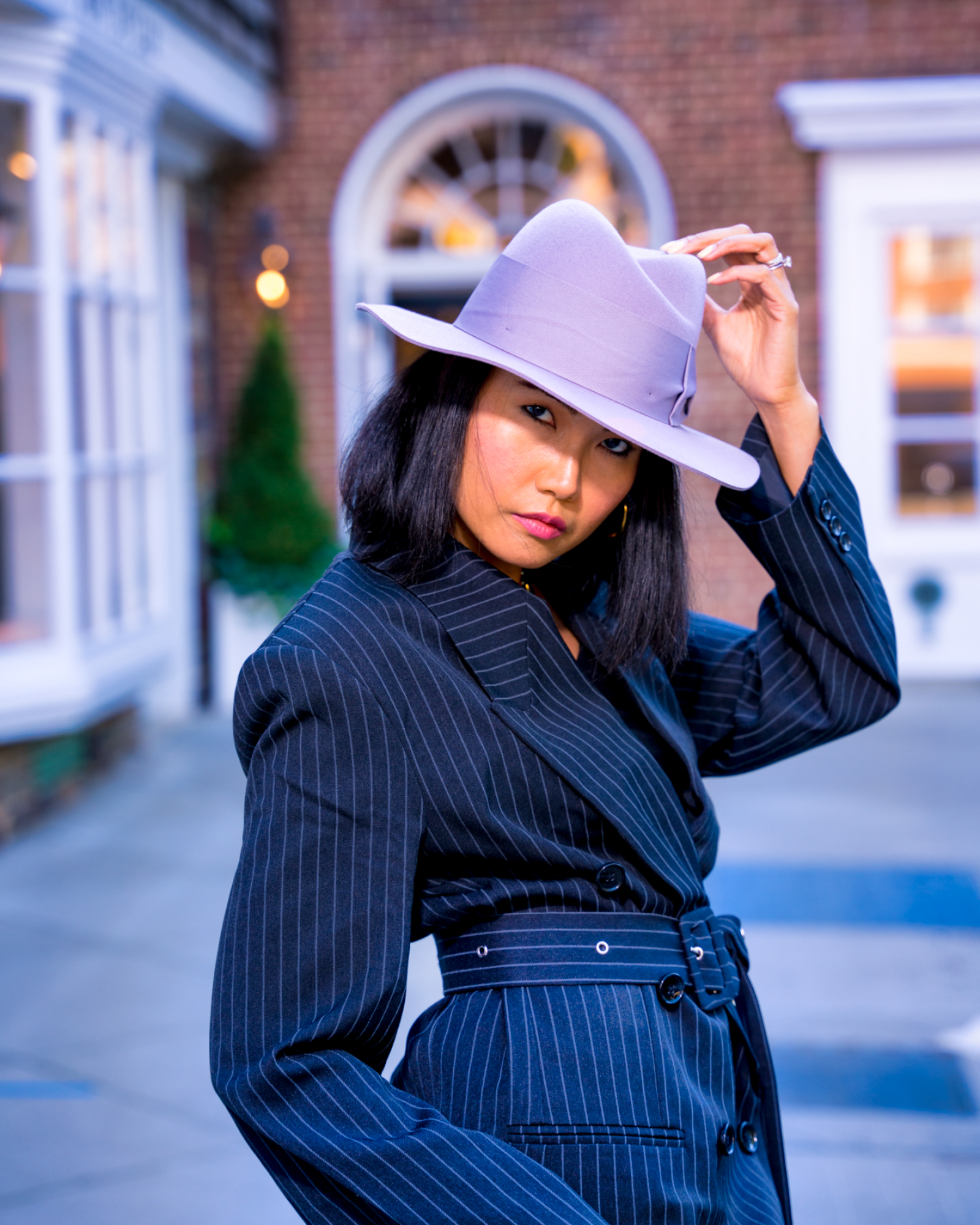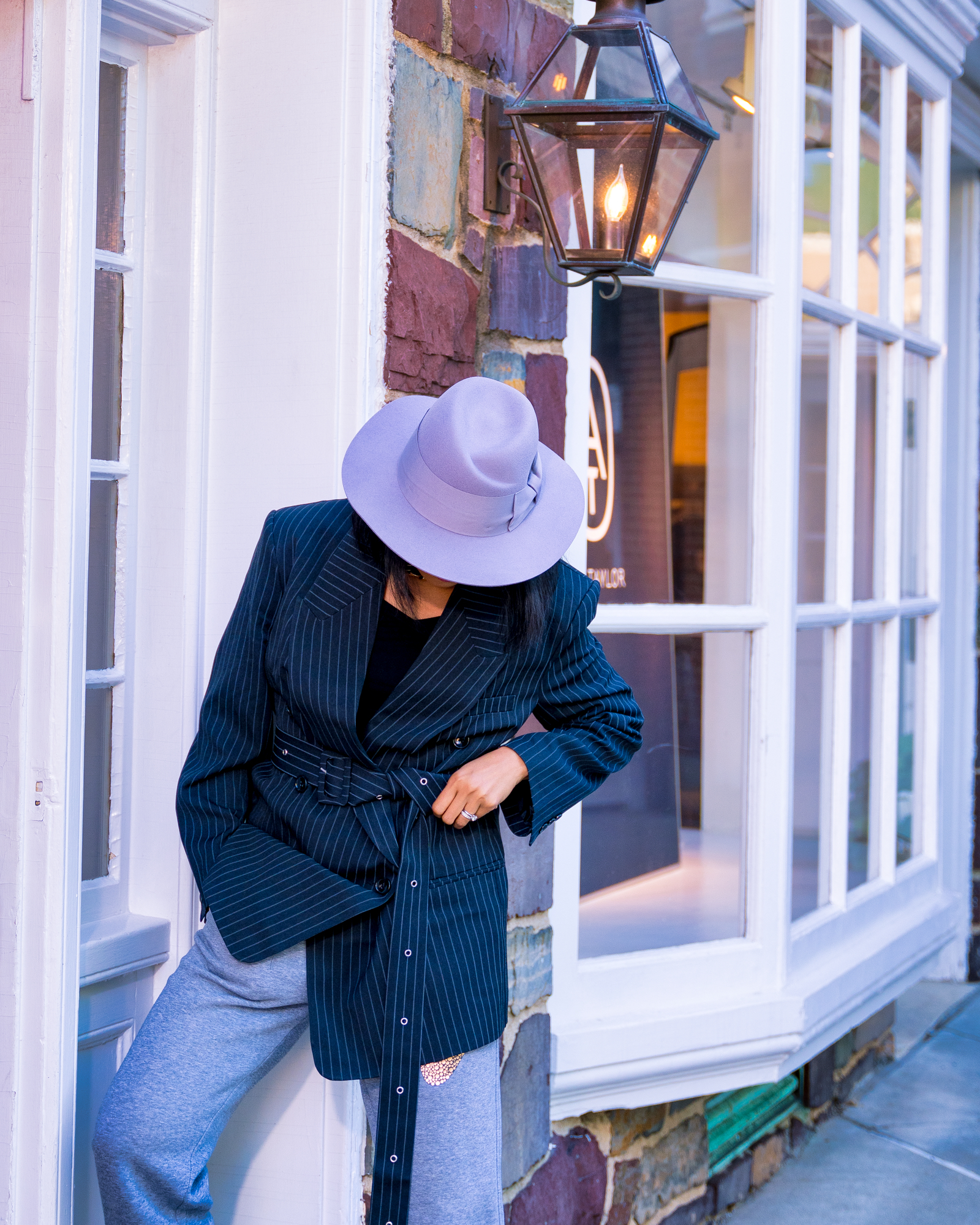 For this look, I focus on comfort, of course, but doesn't mean I have to sacrifice on style. My easy motto for styling is "When in doubt, put a suit on, a hat and call it a day." Anyone else is sharing this outfit formula? As I want to look pulled-together but feeling comfortable, so slipping on sweatpants instead of real pants makes it a business-y look at the top and tomboy-cool at the bottom.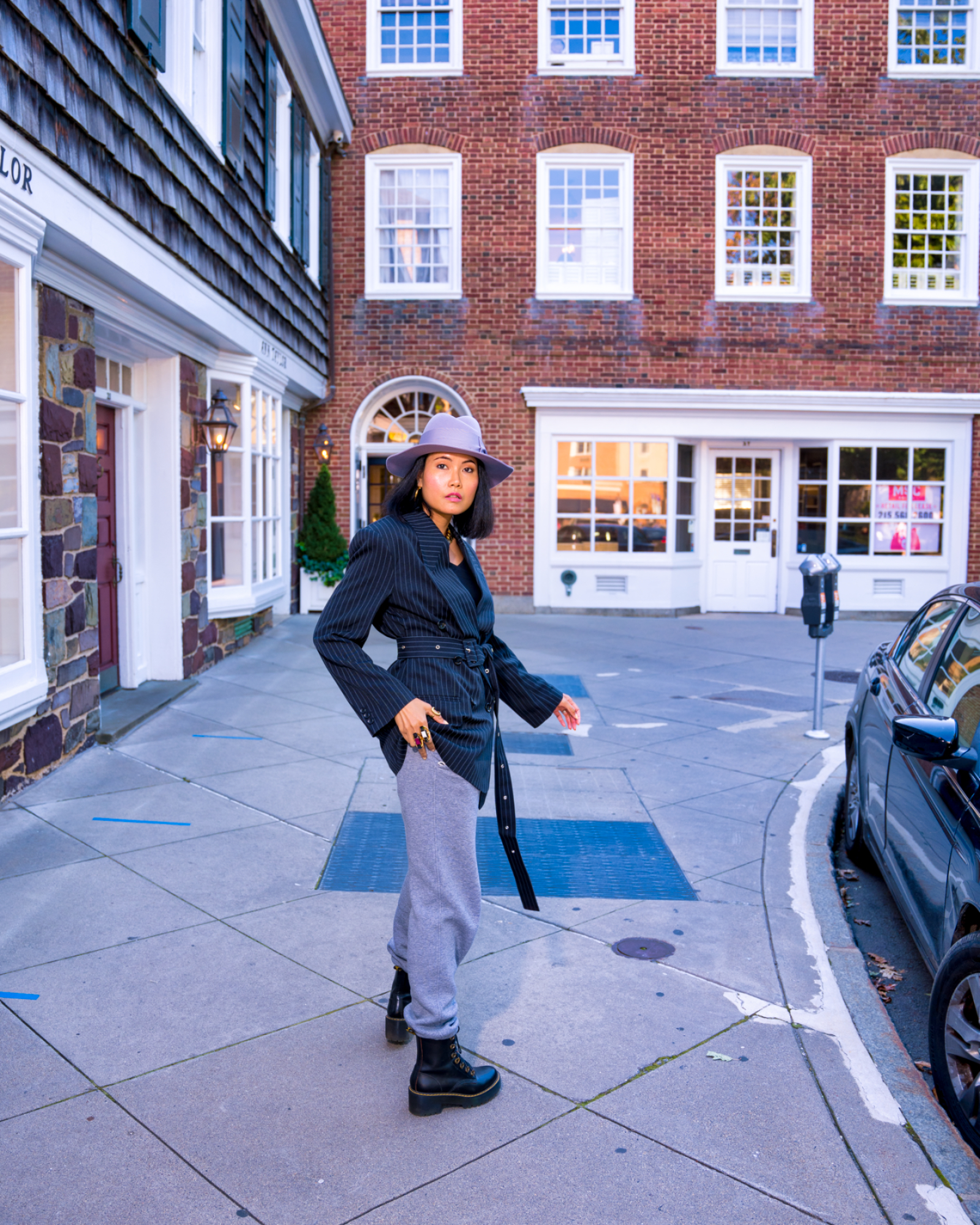 Women's Felt Wide Brim Cloche With Pleated Satin Band (WFH8103)
It was the daring red color (aka trending Samba Pantone Color from New York Fashion Week Autumn/Winter 2020/2021) that first drew me in, but I also loved the chic yet elegant silhouette of the cloche and the silky pleated satin band that makes this hat look expensive and is a tad more refined.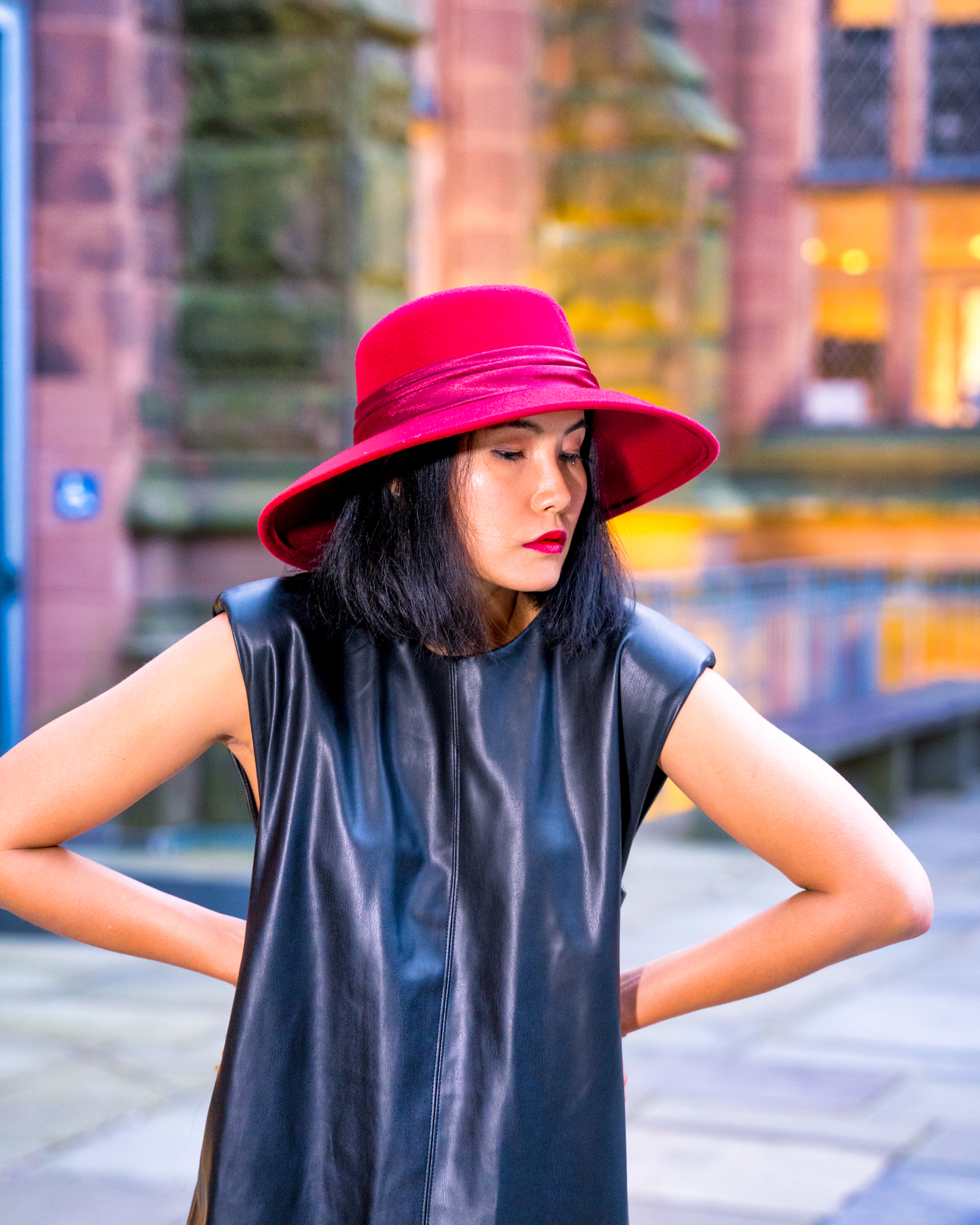 Red and black are a classic combo in my book. I'm a BIG fan of the legendary Audrey Hepburn in her role as Holly Golightly in Breakfast at Tiffany wearing her LBD and the Chapeau du Matin. So, I re-created the look with the sleek leather dress, black high knee boots and contrasted with the red hat, I'm so ready for a night out.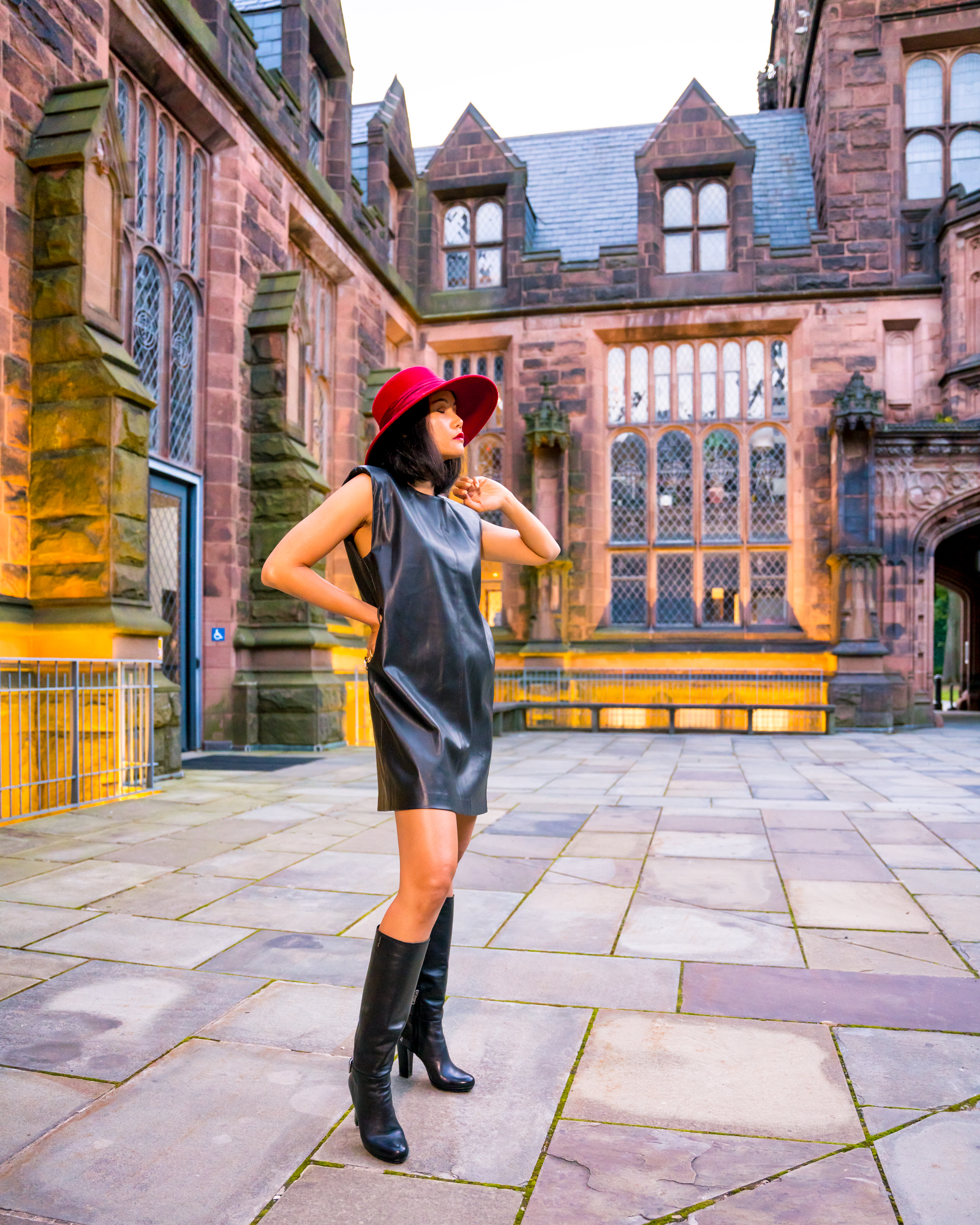 Women's Knit Animal Pattern Bucket (KNH2023)
No print does fall better than an animal print – A big Thanks to San Diego Hat Company for adding this sophisticated print into their fall hat line. As you've might seen me wearing nonstop over leopard print hats in the past few months, so this time I switched to "tiger print" bucket hat – it's tasteful and statement-making with so much depth and subtle texture, especially when it's in beautiful and warm orange, and black hues. And if you think this hat is just for the looks, think again: it's made with 50% wool, so it gives the hat a warm and snuggling feel. So, yes. Just, yes.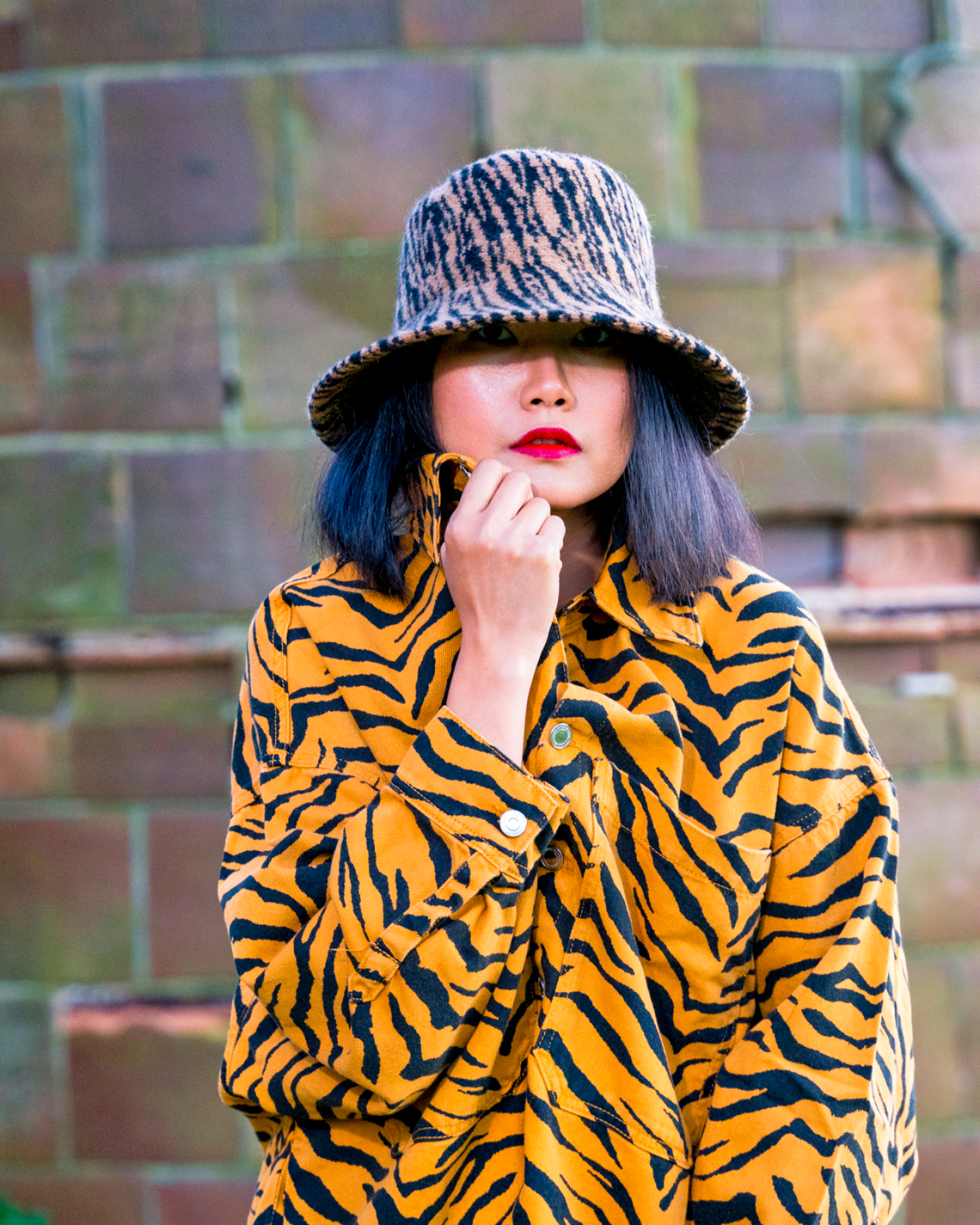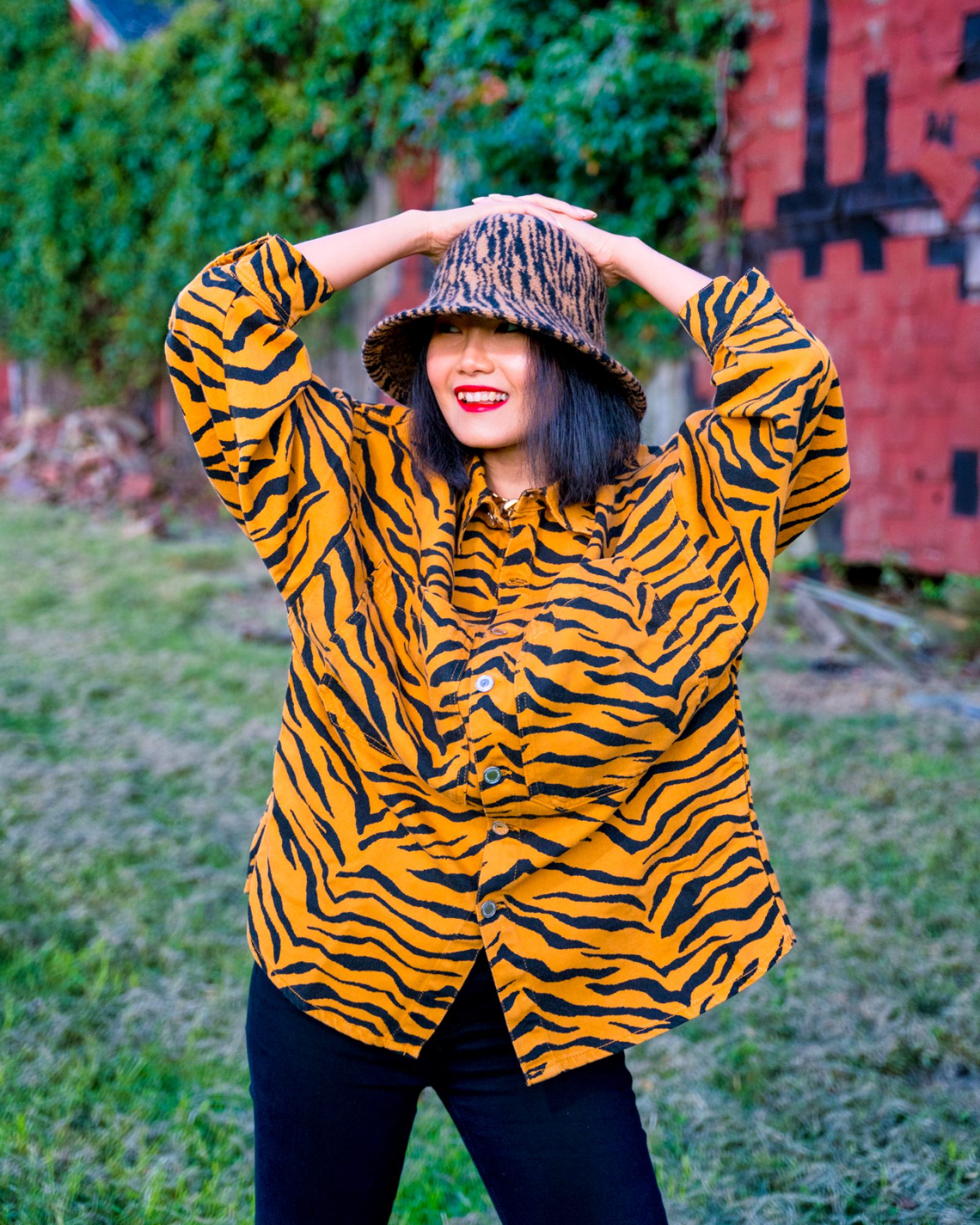 There isn't just one way to wear this knit tiger pattern bucket hat. You can keep it small and subtle for day-to-day attire, or even wear animal prints head to toe and get everyone's attention like this look. The more tiger, the better! Mixing variation of this print creates a cool, unexpected, and chic look. Don't you think? Roarrrr…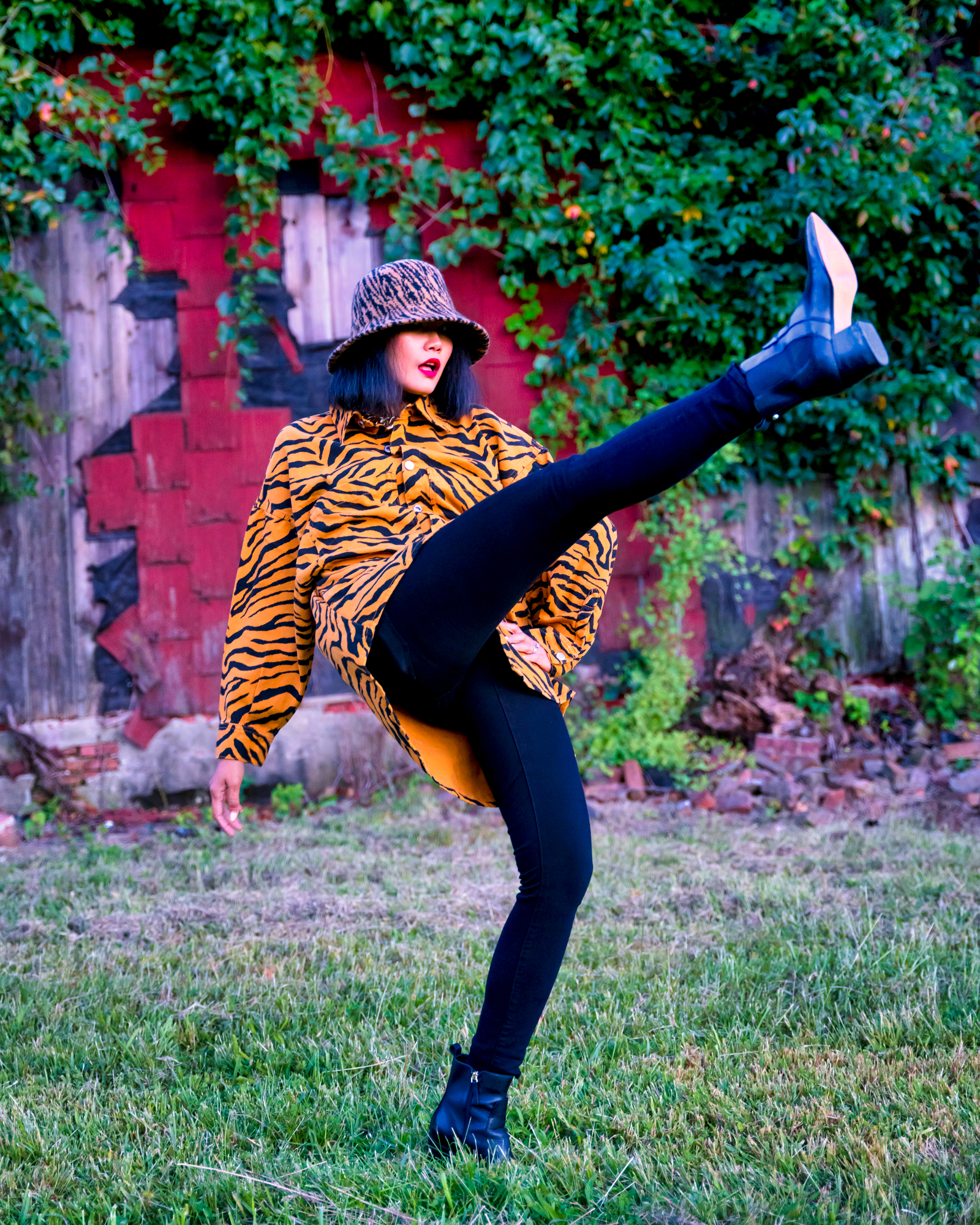 Women's Floppy With Round Crown And Faux Suede Band (WFH7950)
The first thing you'll love about this floppy hat is that the color has a sassy scream of fall. This color is in the front row at fashion week and Pantone's New York Fashion Week autumn/Winter 2020/2021, a hypnotic purple hue with reddish undertones, Magenta Purple (although this hat is called Merlot on San Diego Hat Company's website, but the appeal is much alike). And the second: it can be worn with much more than you would think on the daily.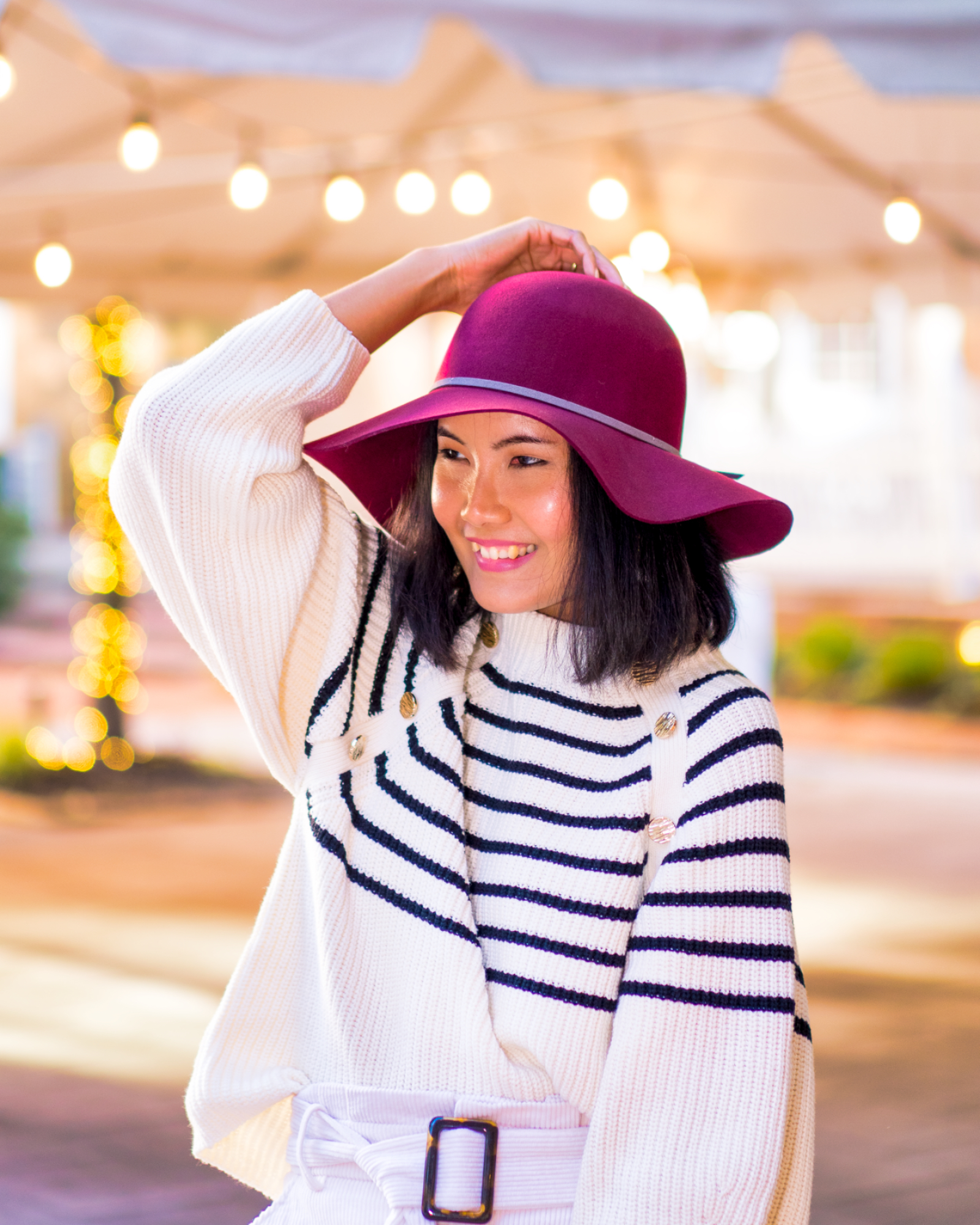 The key to owning this bold wine-ry color is to keep your other choices – sleek gold hoops, a striped sweater, a sexy-hip-hugging fit corduroy mini skirt, a dark pair of boots – clean and uncomplicated. I, now use it as my failproof formula that will carry it well to winter.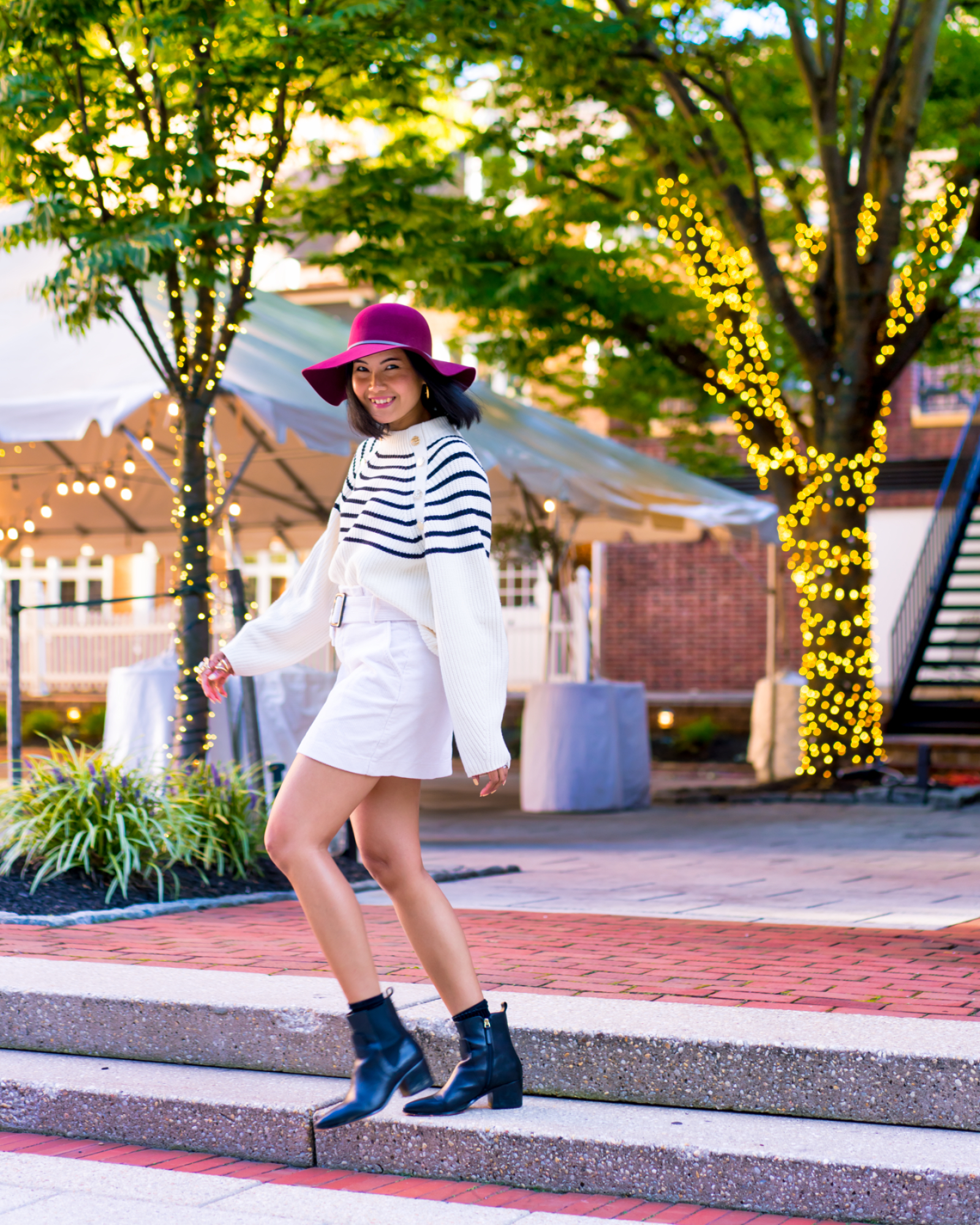 Women's Panel Baker Boy Cap With Stetch Back (CTH1814)
Baker boy hat (aka newsboy, newsie, paperboy, or fisherman hat) is another wardrobe headpiece besides wool felt hats that every girl should own at least one. Although traditionally a men's cap, it has become popular among women and fashion houses throughout years. And for me who has been favoring edgy and masculine-inspired items, I aim to have more hats like this…a classic eight panel plaid with just the slightest retro twist, in warm and earthy tones. This panel baker boy is so versatile and will never go out of style. I also love the elastic band in the back, it allows the hat to stretch or compress depending on the head size.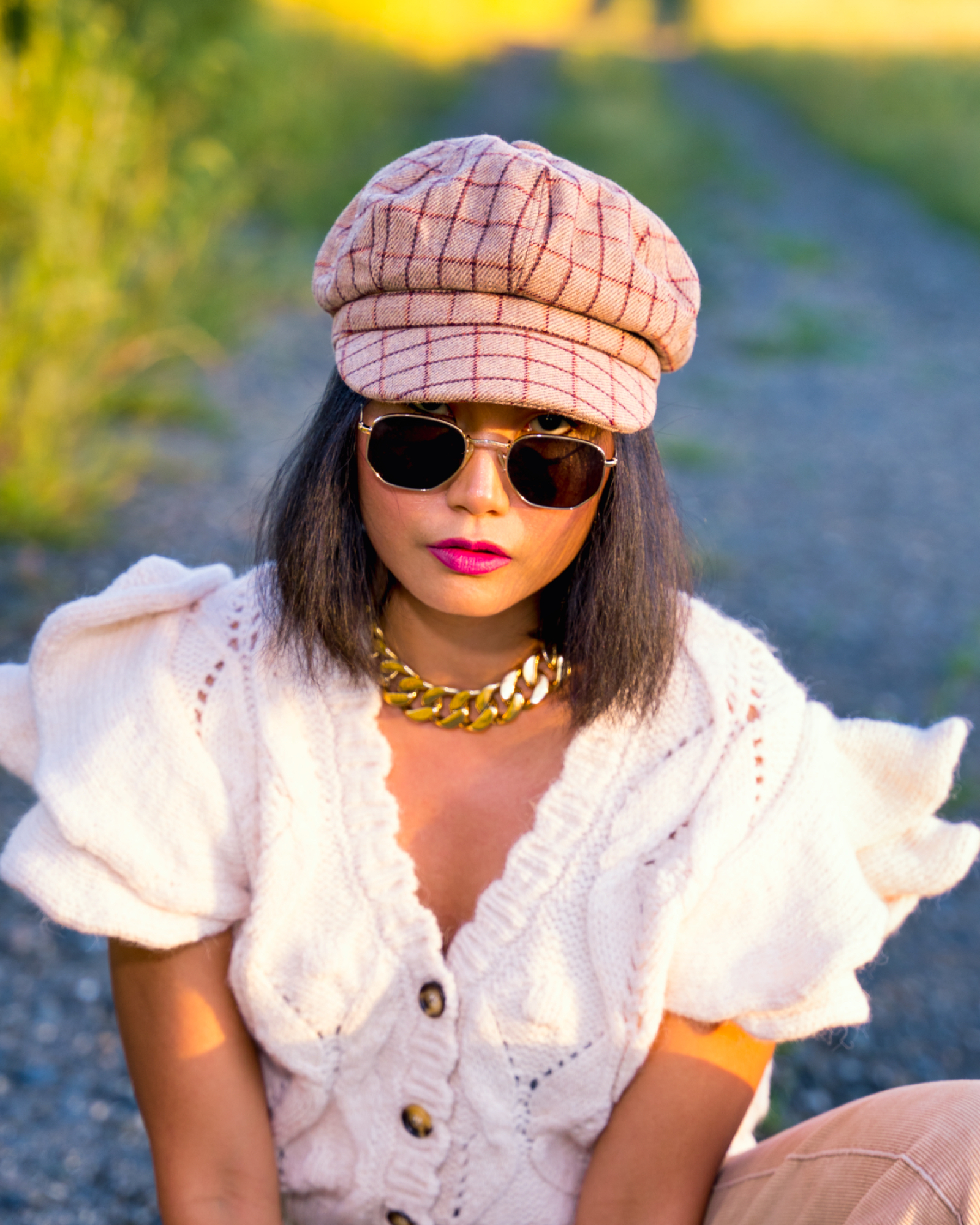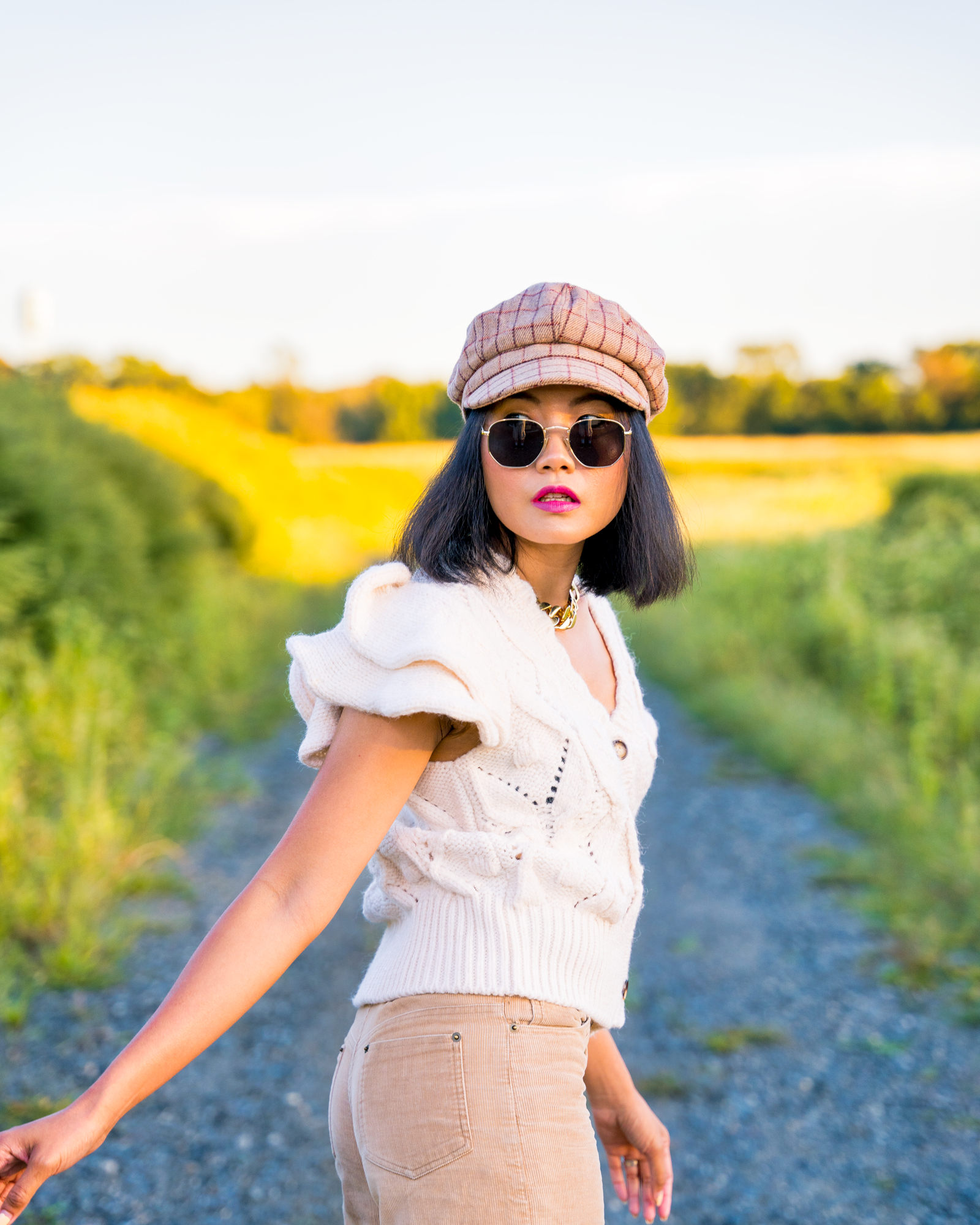 Baker boy hat is one of those headwear pieces that can represent many personalities. It can be edgy. It can be sexy. And with the right pairings, it can be polished and put-together for everything from meetings to grocery shopping and far beyond. I was itching to re-create a '70s inspired outfit with a bit more fashion-forward. For Fall 2020, I love this cropped corduroy style with a short-sleeve cardigan. I intend to tie the colors between the flares and the hat to give the look an elevated and sophisticated touch.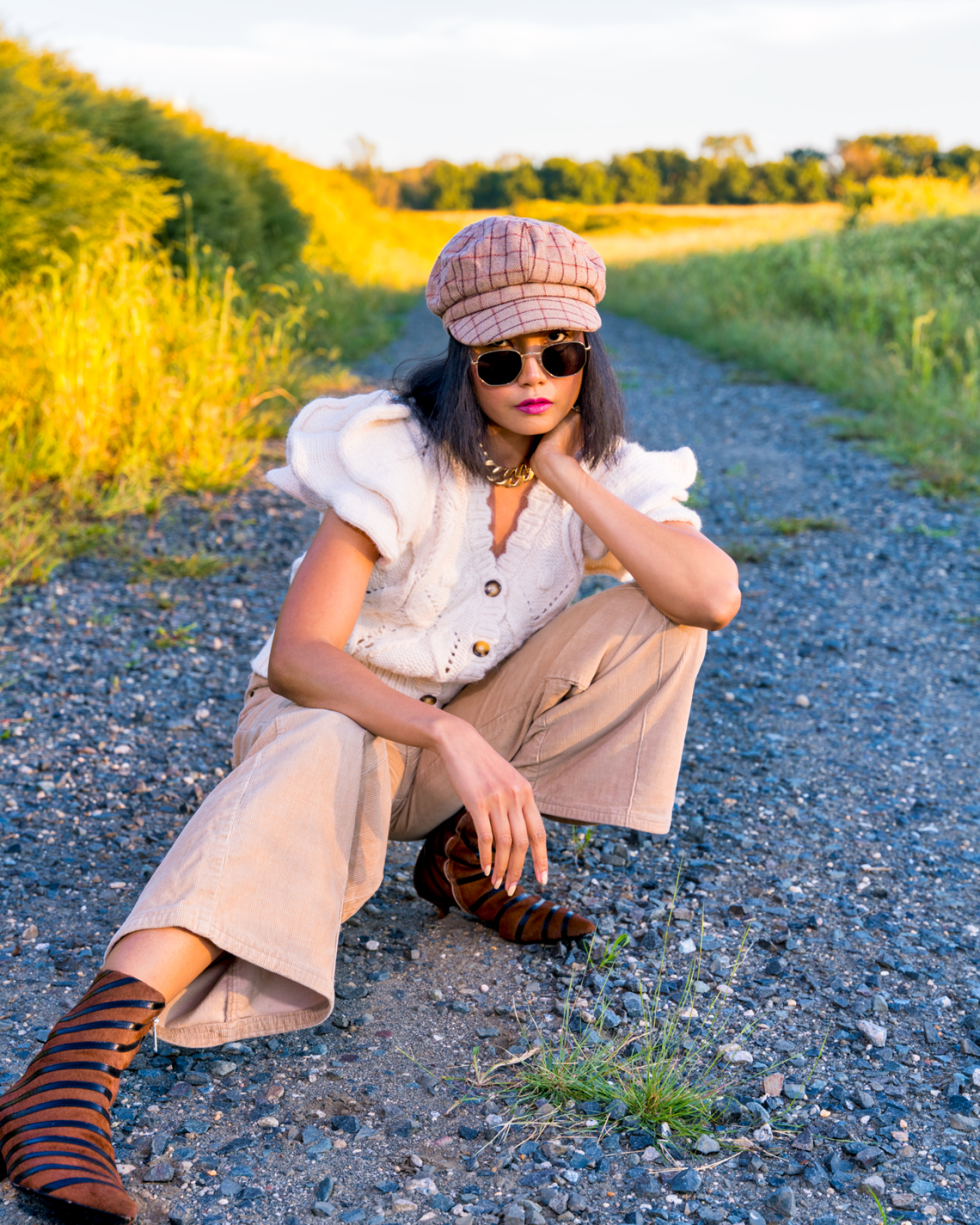 CLICK HERE TO SHOP ALL THINGS SAN DIEGO HAT COMPANY, it'll be sure to put a smile on your face and you'll find a hat that speaks to your heart.
---
1 comment
---
---